Below is a brief description of each class we offer
Every Class is open to all levels. If you have any questions please contact us. We hope to see you soon!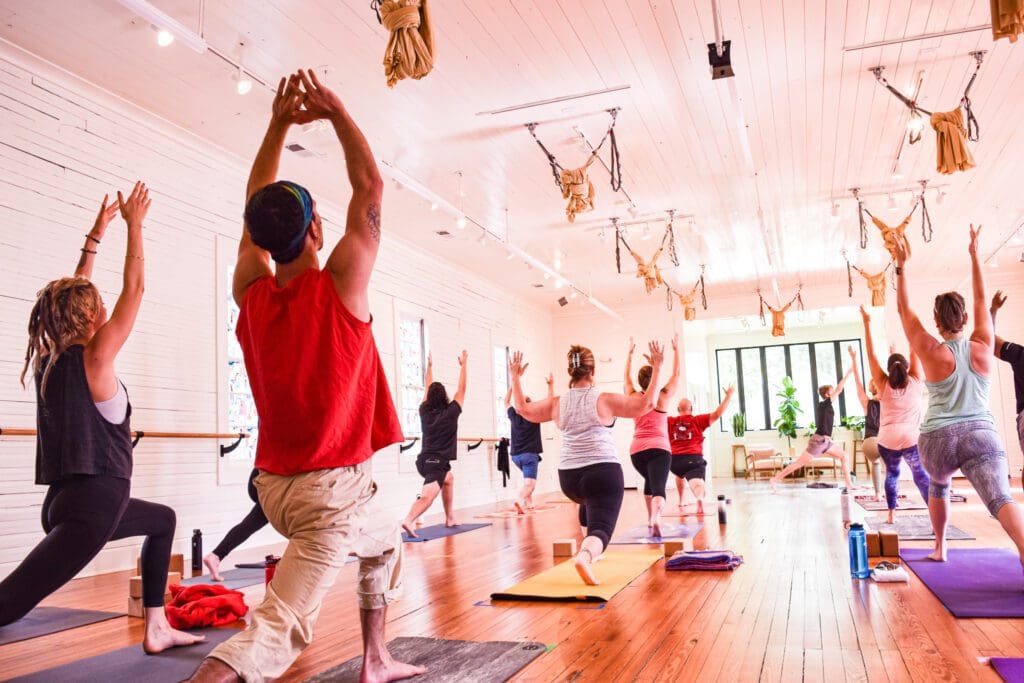 Yoga Classes listed below are listed in recommended increasing order of difficulty. 
A gentle and relaxing class that works deeply into the connective tissues. This class is suitable to all levels of students through extended holds of postures. Yin yoga focuses on restoring flexibility and/or working deeply into joints and tissues that are "locked up" from past injuries or from repetitive motion.
This therapeutic class blends supportive restorative postures to open the body and relaxing breath techniques to cultivate awareness of body and mind. With the use of props such as blocks, bolsters, and blankets, restorative postures release tension and encourage surrender into a deeper sense of relaxation and stillness. This class is perfect for all levels of experience, and stages of flexibility.
Stretch, Yoga Nidra, Sound Bath
We will begin the session with extremely gentle breathwork to help to calm the physical and energetic body, preparing your deep journey within. The teacher will then guide you through a yoga nidra (yogic sleep) that rotates your awareness through the body and alternate sensations/emotions. Finally, the teacher will spend the rest of the session bathing you in the resonant frequencies of quartz crystal singing bowls and koshi chimes while you relax.
This all-levels class explores slower movements and longer holds offer the opportunity to refine each posture and explore deeper sensations. The slow meditative pace of this vinyasa style practice focuses on connecting slow steady breaths with soft movements. This class is excellent for beginners or those wanting a slower-paced flow.
This class connects breath with movement as we practice the fundamental postures of yoga. Perfect for all levels, students can benefit from deepening their understanding of these core poses through linking of the breath, body, and mind.
This class offers both Vinyasa and Restorative elements. The first half of the class is an all-levels flow connecting breath with movement, allowing the body and muscles to warm up. Then we move into restorative postures to slow down and end the practice.
This moderately paced (non-flow) class is for beginners and seasoned students seeking to strengthen fundamental actions and alignment in classic yoga postures. Individual attention will guide participants towards propping and adjustments to deepen body awareness and develop increased understanding of pose techniques and effects. Inversions may be included in sequences but alternatives will be offered.
A lighter flow class where students will be able to move with a sense of ease from one posture to another, coordinated with the breath. This softer pace will allow you to be more present with each posture. Designed to find your own balance of strength, stretch and flexibility, stability and ease, and to gain greater understanding of alignment and balance in the body.
Come for the physical exercise, stay for the deeper connection of mind and body. A moderately paced yoga class with sequences composed of foundational yoga postures with advanced variations offered.
This all-levels class showcases the best of both worlds by cultivating a balance between effort and ease. Students can expect long holds with ample time for meditation and breath awareness. The first half of class is an energizing flow linking breath with movement. The second half of class is yin-based deep stretching.
Ashtanga yoga is a systematic and dynamic sequence. Focusing on breath, alignment and gaze. In this class, students will learn the basics of the Ashtanga Primary Series. This class is suitable for beginners with previous yoga experience and anyone with an existing Ashtanga practice. Students will be guided through the foundational poses of the Ashtanga Primary Series with additional instruction and modifications provided, so the practice is accessible to all.
Vinyasa literally means "to place in a special way." Vinyasa classes sequences are designed build strength, improve flexibility, and include smoothly flowing movements between poses guided by the breath. Based on variations of Sun Salutations. All-levels welcome.
This class offers a unique approach to building strength. This creatively sequenced class pulls together different concepts to increase mobility and joint stability through various drills, transitions, and postures. Dynamic Flow is not your typical flow class, it offers students an exciting way to grow their practice. All levels are welcome.
This power vinyasa yoga class is an invigorating practice where students move fluidly from one pose to the next while connecting breath to movement. With advanced variations offered, the practice incorporates strength, flexibility, balance, physical and mental stamina in one session.
This class will focus on bringing a traditional vinyasa class to the next level. The class will work on balance and strength while flowing through advanced postures. Level: Intermediate to Advanced.
Aerial Yoga
is a combination of traditional yoga poses done on the floor and postures practiced using a silk hammock. It helps to deepen postures and range of motion. This class is an all levels class and is great for beginners. Class will start with a warm up from head to toe, making sure you feel safe and confident. This class will consist of instructions on how to use your silk safely and trust yourself. Class will include aerial yoga flows, individual poses, inversions and suspensions.
This class is a step up from the traditional "Aerial Yoga" class. We will work on going deeper into the postures we learned in Level 1, increasing flexibility, strength, and trust. The yoga flows will be longer, working to build mobility and strength within the silk.
Level: Intermediate to Advanced. This class focuses on strength and conditioning to tackle more advanced tricks. More complex strength poses will be introduced. These poses will require core and arm strength, therefore you must take at least 5 lower-level aerial classes beforehand.
Intermediate Aerial Skill
This class focuses on strength and conditioning to tackle more advanced tricks. More complex strength poses will be introduced. These poses will require core and arm strength, therefore we recommend taking at least 3 aerial classes beforehand. This intermediate class will help get you prepared to take "Advanced Aerial Skill" or Level 4.
This is a high level intensity class. It is upbeat and focuses on very advanced tricks. You will learn a sequence of skills. These poses will incorporate lifts, drops, and advanced inversions. We recommend taking at least 3 Intermediate aerial classes beforehand.